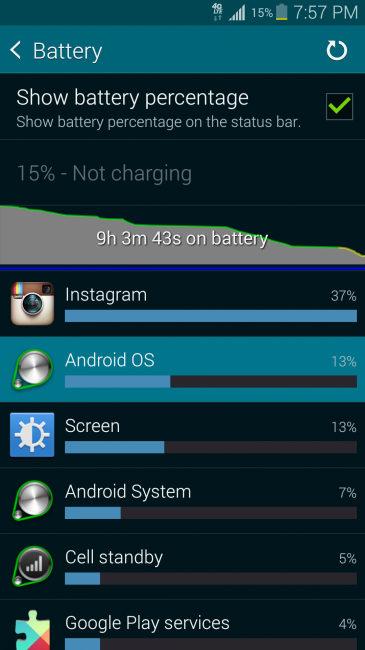 I wasn't sure if it was a new "upgrade" to Instagram or an issue with Android KitKat 4.4 but on my Samsung Galxy S5 running Android 4.4 the battery life was amazing. I was honestly shocked at how great it was. That is until I made the mistake of installing Instagram.
I installed a bunch of stuff because it was a new phone and I wasn't sure what was really doing the damage, but luckily android provides this nice battery burn-down chart complete with individual app battery consumption.
On this particular day I just so happened to NEVER load Instagram. I didn't even open the app, but some how it managed to use 37% of my battery and my phone was extremely hot. Additionally my phone used a very curious amount of data that day despite the fact that it spent most of the day in my pocket. It's an understatement to say something seems a bit fishy.
Then I remembered a while back when facebook asked me for some additional permissions that really freaked me out and I decided rather than agree I'd just delete the app. I didn't even look at the permissions for Instagram when I installed it and it turns out it asked for the same permissions which included the ability to record audio without my permission, access my address book, and prevent the phone from sleeping. In summary it can be used to listen in on what I'm doing and apparently that's what it was doing (and destroying my battery life in the process).
Luckily there is a solution to this problem. Uninstall Instagram and Facebook and never look back! Flip Zuckerburg the bird on your way out of the building and start e-mailing your pictures to your friends. Also, if you have android 4.3+ you can access a feature called App Ops which will allow you to manually control the permissions of each app. App ops is a hidden feature that can be accessed on Android 4.3 using a launcher app. App ops was later removed in android 4.4, but you can still access it if your devices is rooted. Learn more about how to access App Ops.