Everything about getting ready for this trip has been overwhelming (and exciting), but one of the biggest sticking points is figuring out what to bring (and what to not bring). When walking 2600 miles every gram counts, but as a modern city dweller, the concept of living with such limited possessions is daunting. It really makes you decide what is truly important. There are a million things I'd "love to have" on this trip, but this is the list of things that I decided I needed to have.
My total gear weight is 29 lb / 13 kg
I'll be wearing about 3.5 lb / 1.5 kg
So my pack base weight is 25.5 lb / 11.5 kg
After I ditch the snow gear I'll be at 24 lb / 10.8 kg (not counting the possible guitar addition)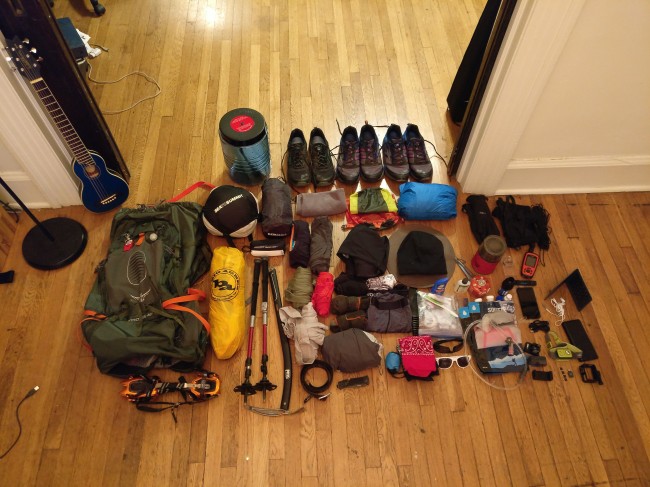 The big stuff (1o lb / 4.5 kg)
Backpack – Osprey Atmost 65L (72 oz)
This is one of the most popular backpacks on the trail for a reason. It's a great balance of weight and durability. Easily large enough to hold a bear vault, and it also happens to fit my body extremely well.
Tent - Big Agnes Fly Creek UL2 + foot print (41 oz + 5 oz)
This a a great ultra light weight tent. I got it specifically for this trip, and took it out on a few overnight trips in preparation. I saw some mention of the zippers breaking after months on the trail, but all of those stories had happy-ish endings involving the company mailing a replacement tent to the trail. I second guessed buying the foot print over and over, but in the end I decided it was worth the extra weight to protect my only shelter for the next 5 months.
Sleeping pad – Therm-a-rest NeoAir Xlite (12 oz)
I originally got the large size, but after a couple trips with it I realized the extra length didn't do much for me other than reducing the free space I had in my tent. Luckily, REI was happy to exchange it even though I already I used it and lost the receipt (REI is awesome) which saved me $35 and 4 ounces.
Sleeping quilt – Hammock Gear Burrow 20 (21 oz)
Hammock gear primarily specializes in hammock camping, but they also make a damn fine sleeping quilt. They are custom made to order so they take about a month to ship. I've only used it a couple times so far, but it seems awesome. It's made of "hydrophobic down" which is supposed to be able to deal with getting wet (or at least dry quicker), but I'm hoping it just doesn't get wet in the first place.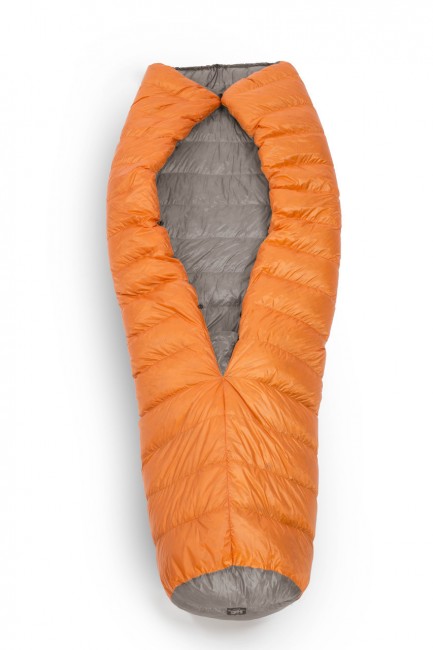 I considered ditching both of these items to save weight, but in the end I decided they're worth bringing. I can't imagine anything worse than finishing a cold wet day of hiking only to realize that I have a cold / wet sleeping bag so I'm keeping the dry sack. For the liner, I've accepted that I'm going to be a gross smelly human being for the next 5 months. Hopefully, this liner can help protect my sleeping quilt from my filth.
Trekking gear (3.1 lb / 1.4 kg)
Trekking Poles – Black Diamond Trail Trekking Poles (16 oz)
Ice Axe – Petzl Summit Ice Axe (14 oz)
Crampons – Black Diamond Neve (21.5 oz)
Kitchen (food / water) (5 lb / 2.2 kg)
Stove – MSR Windburner (22 oz)
Although slightly heavier than some other options, I really like this stove because it is a self-contained all-in-one solution. The burner is stored neatly inside of the canister which doubles as a thermos and cooking pot. It also includes a small bowl / measuring cup. Additionally, I find the promise of it working without issue even in the windiest of conditions really appealing. Not being able to have a warm meal on the coldest / windiest nights seems pretty miserable. After a long day of hiking I really want something that will just work.
Storage – Bear Vault BV500 700 in3 (44 oz)
This is a required item for the Sierra mountains, and most people have it shipped just before and ditch it just after. However, this is a place where I'm taking the extra weight. I'm going to start with this clunky, heavy, monstrosity from the beginning and send it back when I hit Kennedy Meadows (before the desert). Honestly, I'm lazy and I don't want to fight with hanging my food every night. I don't want rodents eating a hole in my pack / tent, and there are bears in the cascades. Plus, I hear it makes a great seat.
 Water Purification – Sawyer Squeeze (3.8 oz)
Seems to be the standard these days. It's super easy to use and gets the job done. Like most people, I ditched the bulky syringe and plan to use a smart water bottle to back flow it. I am also bringing some purification tablets because I'm paranoid.
Other kitchen stuff
Titanium spork / alloy knife (0.5 oz)
Squeeze 64oz water bladder (x2) – dirty water (2.5 oz)
1.5 L osprey water bladder – (5.7 oz)
2x 1L smart water bottles (2 oz)
First Aid / Repair / Hygiene (0.3 lb / 170 g)
Toothbrush (I didn't cut the handle… deal with it)
Toothpaste (travel size – sending more along the way)
Hand Sanitizer (travel size – sending more along the way)
Mole skin
Gauze pads
Bandaids
Medical tape
Steristrips (butterfly bandage)
Neosporin
Vaseline
Needle / thread
Replacement pack buckle
Therm-a-rest field repair kit
Ear plugs
Clothing (6.6 lb / 2.9 kg)
2x Darn Tough hiking socks (5 oz)
1x Liner sock (1.5 oz)
1x Smart Wool beanie (2 oz)
1x REI sun hat (3.5 oz)
2x Smart Wool underwear  (6 oz)
1x Smart Wool long base layer bottom (5 oz)
1x Smart Wool long base layer top (6 oz)
1x Smart Wool short sleeve (4.5 oz)
1x REI zip off hiking pants (12.5 oz)
1x Nylon shorts (5 oz)
1x REI elements rain pants (15 oz)
OR Gloves + water shell (3 oz)
Nylon Belt (3.5 oz)
OR Gaiters (4.5 oz)
Buff (1 oz)
Head insect net (1 oz)
Patagonia H2No – rain jacket (11 oz)
Patagonia Quilt – puffy coat (14 oz)
2x bandanas (2 oz)
Sun Glasses (1 oz)
3x Brooks Cascadia 12 – Hiking Shoes (wear 1, 2 to be shipped later)
Electronics (3.1lb / 1.4kg)
This is where the struggle gets real. I've cut my electronics gear in half twice to get to this final list. It's still an unfortunate chunk of my base weight, but I'm pretty happy with my final choices.
Anker 20,000mah battery pack (13 oz)
Garmin InReach – Satellite navigation / communication (7.5 oz)
Nexus 5x – Android phone / camera (4.5 oz)
One Plus 3t – Android phone / camera (5 oz)
Microsoft folding keyboard (6 oz)
GoPro Hero 5 – camera (4 oz)
GoPro Batteries + charger x2 (2 oz)
Go Pro Mount (1 oz)
4x 64GB micro SD cards + USB-C reader (0.1 oz)
USB Cables (4 oz)
USB wall charger (3 oz)
Earbuds (0.35)
Miscellaneous (1 lb / 453 g)
Compass (1 oz)
Whistle (0.5 oz)
Waterproof phone bag (1.5 oz)
Black Diamond Headlamp (3 oz)
REI Multi Towel – camp towel (4 oz)
Sun screen (4 oz) – sending more with resupply
Bug repellent (3 oz)
Extras
Juggling balls (8.7 oz / 226 g) - I've been juggling daily for the past year and really don't want to break this habit, but juggling balls are kinda heavy by nature so I'm probably going to leave them behind. Maybe I'll try my hand at juggling cliff bars.
Guitar (32 oz / 907 g) – I picked up a Washburn Rover backpacking guitar. I'm still not positive if I want to carry this around or if I'll even have the time to play it. My current plan is to get through the cascades ditch the weight of the ice axe / crampons, and then possibly have my guitar sent down.
The Rejects
There were a lot of things I originally planned on bringing that just didn't make the cut. This does not include all of the things I cut before I even started weighing things (DSLR, Full-size tripod, more extra clothes, etc)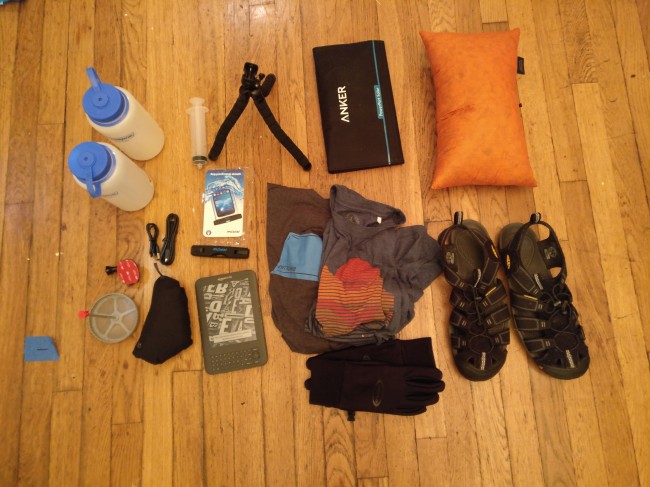 Nalgene bottles – these are my favorite, but for weight I'll be using smart water bottles
Sawyer Squeeze back flush syringe – Using smart water bottle
Tripod – I attached a camera mount to my trekking pole instead
Anker Solar panel – Hope my battery pack lasts between towns
Camp pillow – Puffy coat = puffy pillow (or other clothes)
Keen water shoes – gonna miss these but they're super heavy
2x Synth blend T-shirts
extra gloves
Kindle – doing audio books instead
extra water proof phone bag
extra usb cables
extra go pro mount
Patagonia Houdini wind coat – using my rain coat as a wind breaker
French Press for MSR windburner – why did I buy this?
Follow up
I've used most of this gear already and am pretty happy with it, but I have no idea how any of it will hold up to this trip or how I'll feel living in this gear for 5 months. After the hike I'll do another post reviewing how everything worked out.