The past week has been absolute chaos. It has just been wave after wave of anxiety and excitement. It was the feeling of being "almost done" followed immediately by the feeling that I have a million more things to do that I'll never be able to finish in time followed by "what the hell am I doing?!?" (repeat until insane).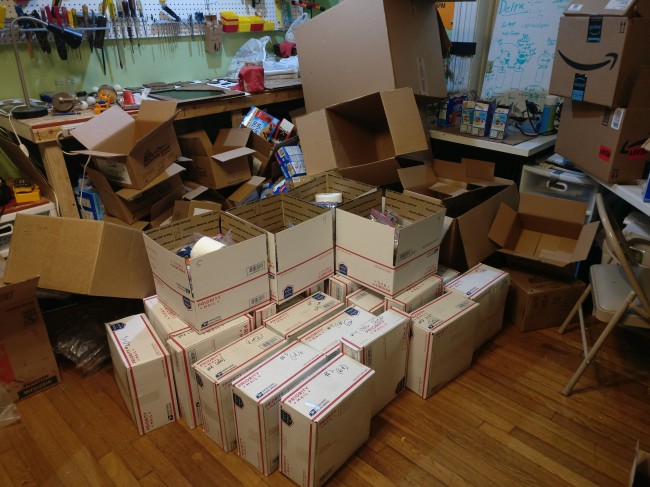 I was pulling my hair out trying to figure out where and when to send food to myself until one of the amazing people I'm starting this hike with saved my ass with her amazing resupply list. I then spent the majority of of the last week packaging a seemingly endless mountain of food and stuffing it into priority mail boxes with the gracious help of my beautiful partner Orpheus.  Then, I hauled them over to my incredible cousins, Tim and Susan, who are going to be mailing them to me throughout the trail.
Additionally, I met 4 new, and truly amazing, people this week including 3 people that I'll be starting the trail with, and a 4th that is another hiker that started a day ahead of the rest of us. I haven't even walked one foot of the PCT yet, and I'm already flush with interesting people and memorable experiences.
…but it seems we've reached the end of the climb and it's time for the first drop. I'm scared, nervous, excited, and I'm sure I forgot something, but it's about 9am, and my incredible friend (Abi Grace) is about to drive us up to Hart's Pass, the northern most point of the PCT that you can reach by car (within the US). We should be getting there around 4pm which should still allow us to get a good amount of hiking in before we camp for the night (gotta love the long PNW days). Hart's Pass is about 30 miles south of the Canadian border so we have to back track for two days just to be able to say we actually walked from Canada to Mexico. It might seem silly to add another 60 miles (and 4 days) round trip just to take a selfie with a border crossing, but it's supposed to be some of the most beautiful views on the entire trail, and if I'm going to walk from Canada to Mexico I'm going to actually do it. So I'll be heading north bound for 2 days and then I can officially start the trail sobo (hence today is day -2 of the PCT).