After about 3 weeks in Seattle I'm finally ready to head back to the trail. Plan A was to hike the PCT end to end, but after my ankle injury it was on to Plan B: try to jump back on at Snoqualmie (45 minutes from Seattle). I had a ride lined up and was all packed up, but when I woke up my ankle was killing and I had a lemon sized lump on my shin just above my ankle again. So, it was time for Plan C: try to jump back on in another week and a half at Cascade Locks (northern border of Oregon near Portland). Then, half of Oregon caught fire and huge stretches of the PCT were closed so it was time for Plan D: Hike the Oregon Coast Trail instead and get back on the PCT just before California.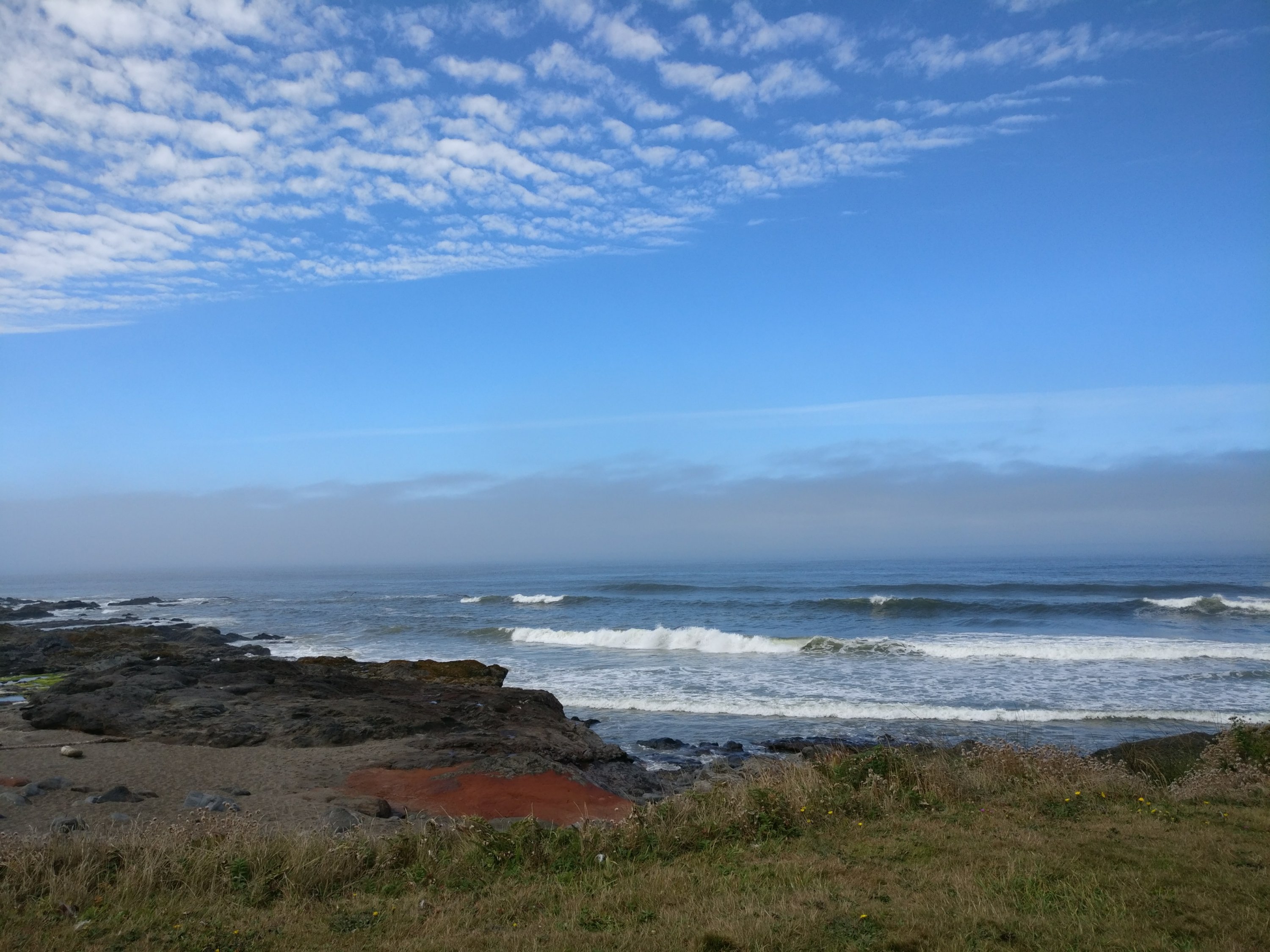 On August 18th I caught a bolt bus to Portland and met up with Hori Sora, and she drove me out to Cascade Locks to pick up Brian (one of the people I started the trail with originally) and my resupply package. We went out and grabbed a last dinner at a restaurant and then she dropped us at our hotel for the night. In the morning we took a train to Salem, OR and then wandered around Salem for a bit awaiting a bus to Lincoln City so we could start the costal trail.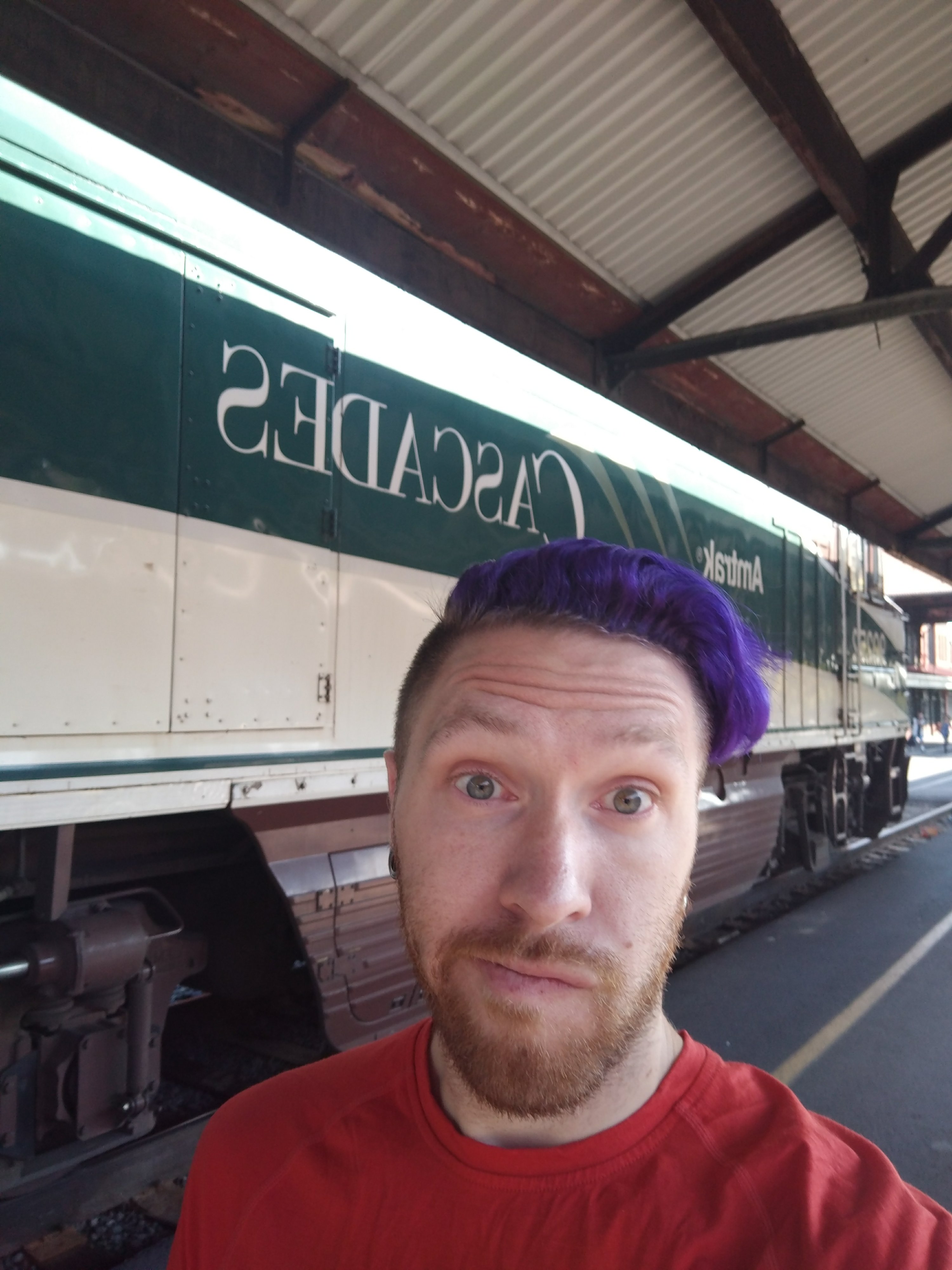 We got to the coast in the afternoon and started heading south. We quickly realized the Oregon Coast Trail wasn't so much a trail as it was just walking down the beach. It was beautiful, but extremely windy. Hiking with a pack on the sand was pretty difficult, but it was basically flat and as long as you stayed on the damp sand it was solid enough to be stable.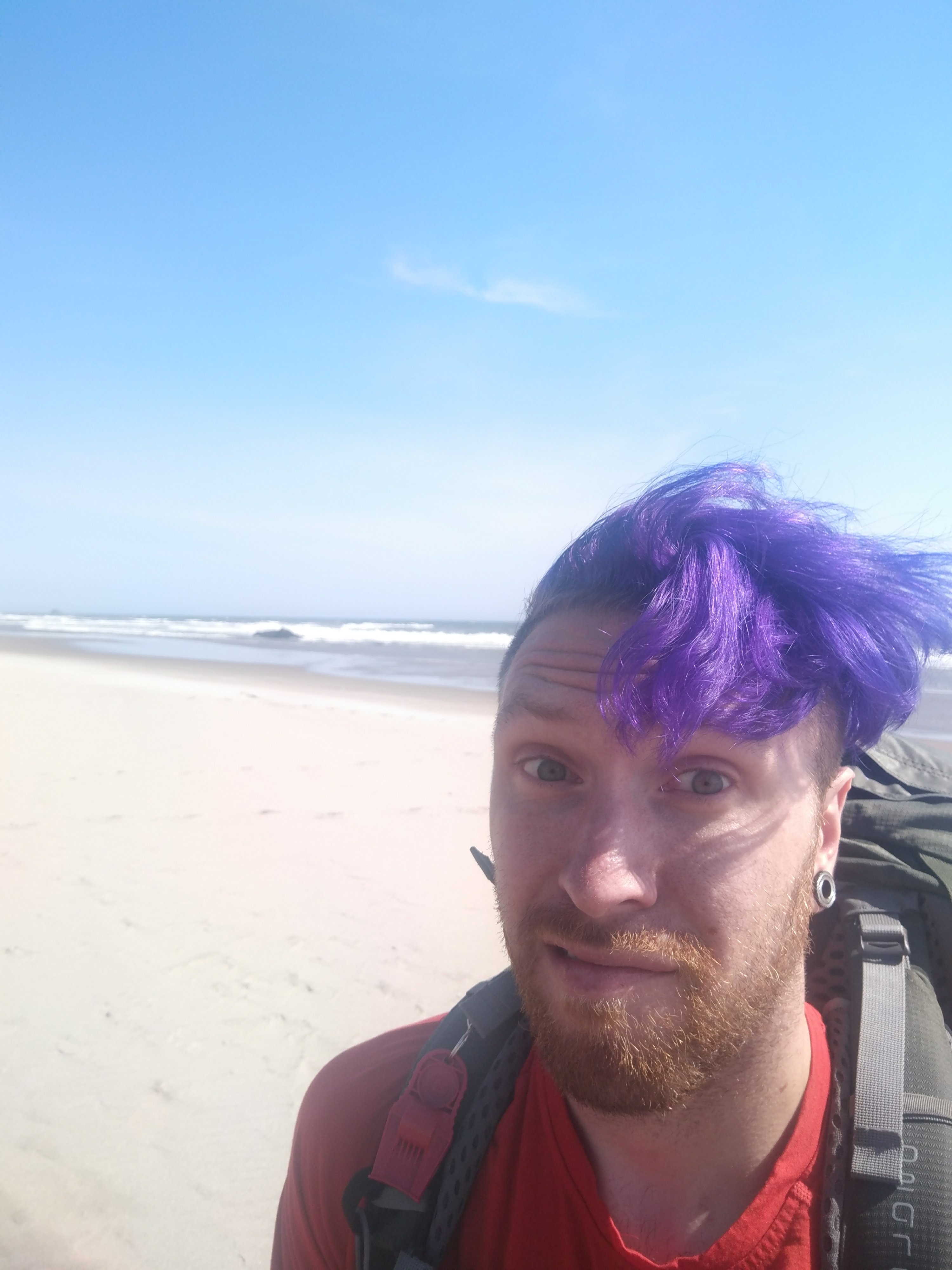 We wound up walking about 7 miles the first day and getting to the actual town area of Lincoln City a little before dusk. We quickly realized that we'd made a huge mistake when we tried to find camping. Back on the PCT there are tent sites all over the place and you don't have to think nearly as much about it. On the Oregon Coast trail there are large camp grounds every dozen miles or so. In this town we were about 10 miles from the next one and about 4 miles past the previous one. After scoping out the town for places we might be able to get away with sleeping we decided to walk the 4 miles back to the campground. When we got there we found a full camp ground (because of the eclipse). We wandered around the dark campground and eventually found an RV spot that was reserved but empty. We set up our tents there and hoped to not get kicked out. The ranger drove by a couple times in the night, but didn't seem to notice us. The next morning we decided that rather than hike the same stuff we already hiked that we'd just take a bus down highway 101. We hiked into town and found a coffee shop and sat there, taking up space, and drinking coffee for a few hours until the bus came. While we were there we met another Hiker. She told us about how the camp sites hiker/biker camp areas and helped us figure out camping for the next few nights which was really helpful.
The next morning was the solar eclipse and we were right on the beach in the center of the totality zone. Watching the eclipse through the glasses was really impressive, but when it hit totality and I took off the glasses it was easily one of the most amazing things I'd ever experienced. I couldn't help but yell out in amazement and I heard dozens of others around me doing the same. It was surreal and I'm really thankful for being able to experience it. I took some pictures, but on a camera phone they looked like nothing.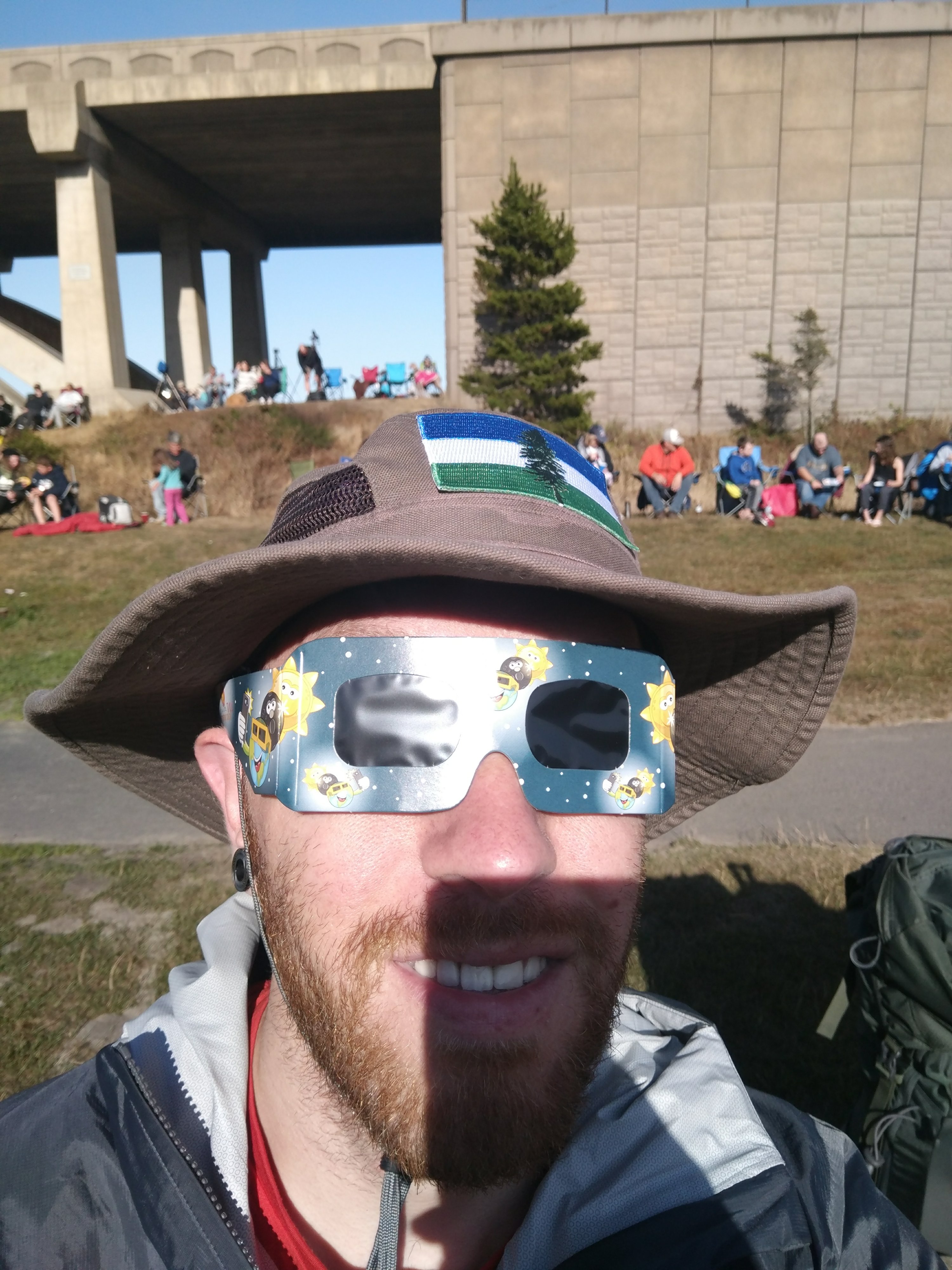 From there we started hiking south. The Oregon Coast trail is absolutely gorgeous, but is almost entirely beach walking. At the end of our 3rd day we got to Newport, OR which we realized was the home of Rogue brewing, and the trail actually took us right by the brewery which was only a mile from our campground. So, obviously we had to stop and have a burger and some beers.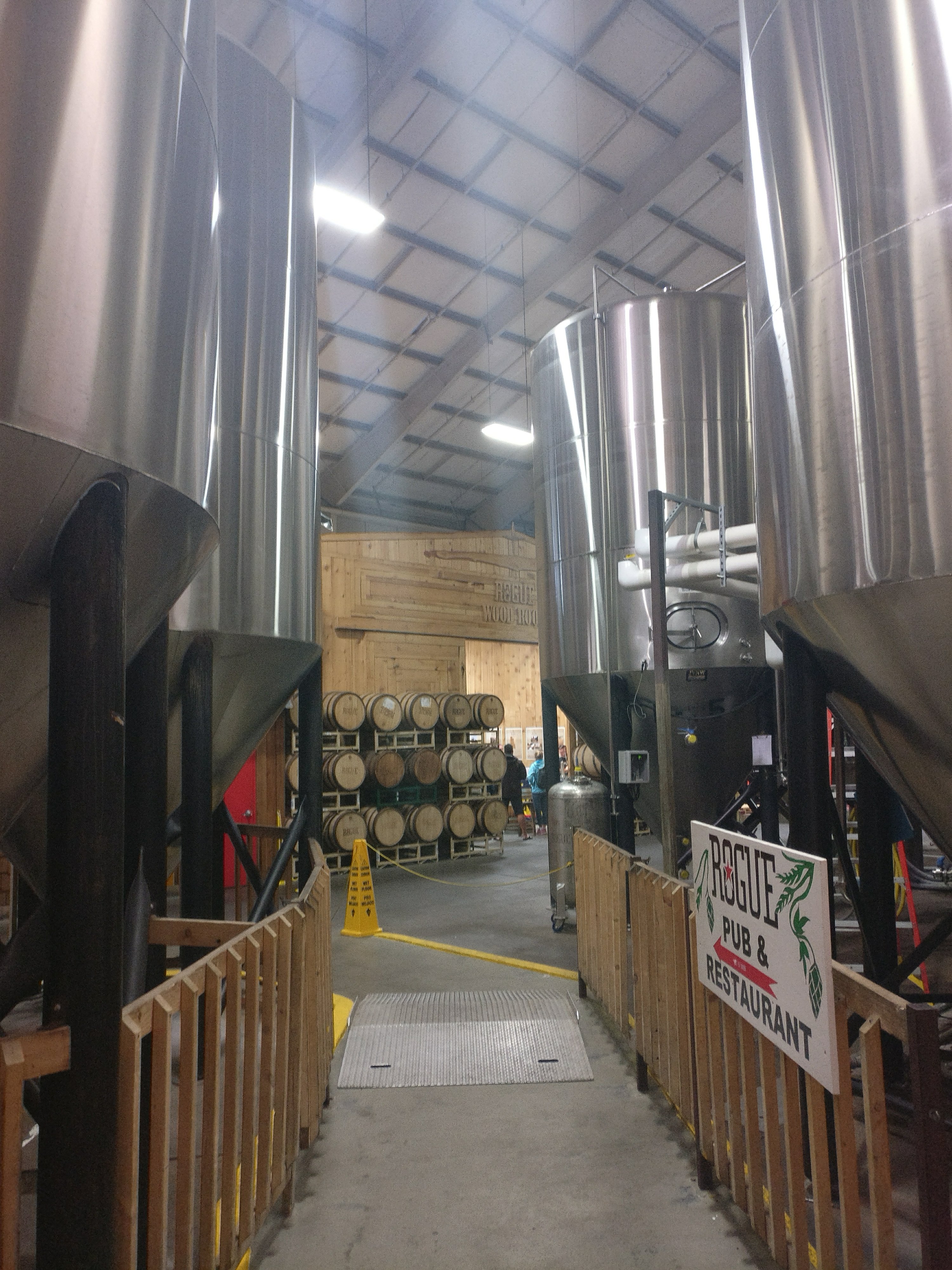 The next day we came across a beached seal. It was adorable, but obviously in trouble. It seemed quite alert, but it was panting with its tongue hanging out. It was a couple hundred feet from the ocean and there was a trail about 200 feet long in the sand behind it where it had been dragging itself toward the sea.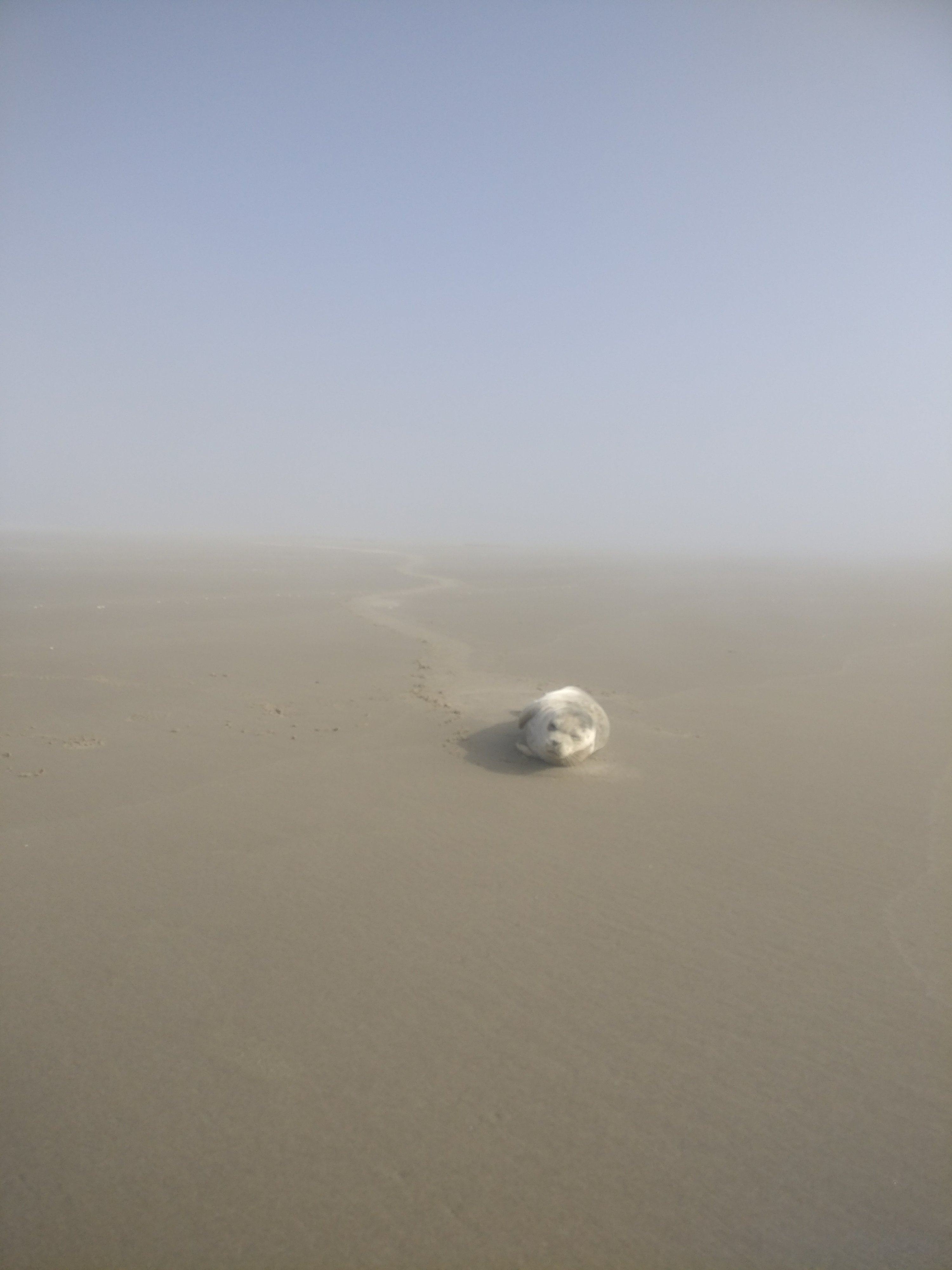 We were lucky enough to have cell service at that time so we looked online to see what to do in this situation. The first thing we read (while standing about 5 feet from the seal) was to stay at least 50 feet away from the animal. Next, it said we should call the marine mammal hotline so we did. It went directly to a voice mail that said something like, "Feel free to leave a message here if you find a marine mammal in trouble, but be advised we usually let nature take it's course." We left a message explaining the situation and provided our coordinates. We debated about what to do next for a while. It's a federal crime to interfere with marine mammals so we "didn't touch it", but if we had we probably would've: gotten a tarp from my bag, scooped it up, watched it freak out having no idea what was happening to it which caused it to piss all over the place, and run the 200 feet to the ocean with it. After that I imagine it'd sit there in the waves for a few minutes staring at us dumbfounded before swimming out to sea…. Something like that would've probably happened if we weren't law abiding citizens.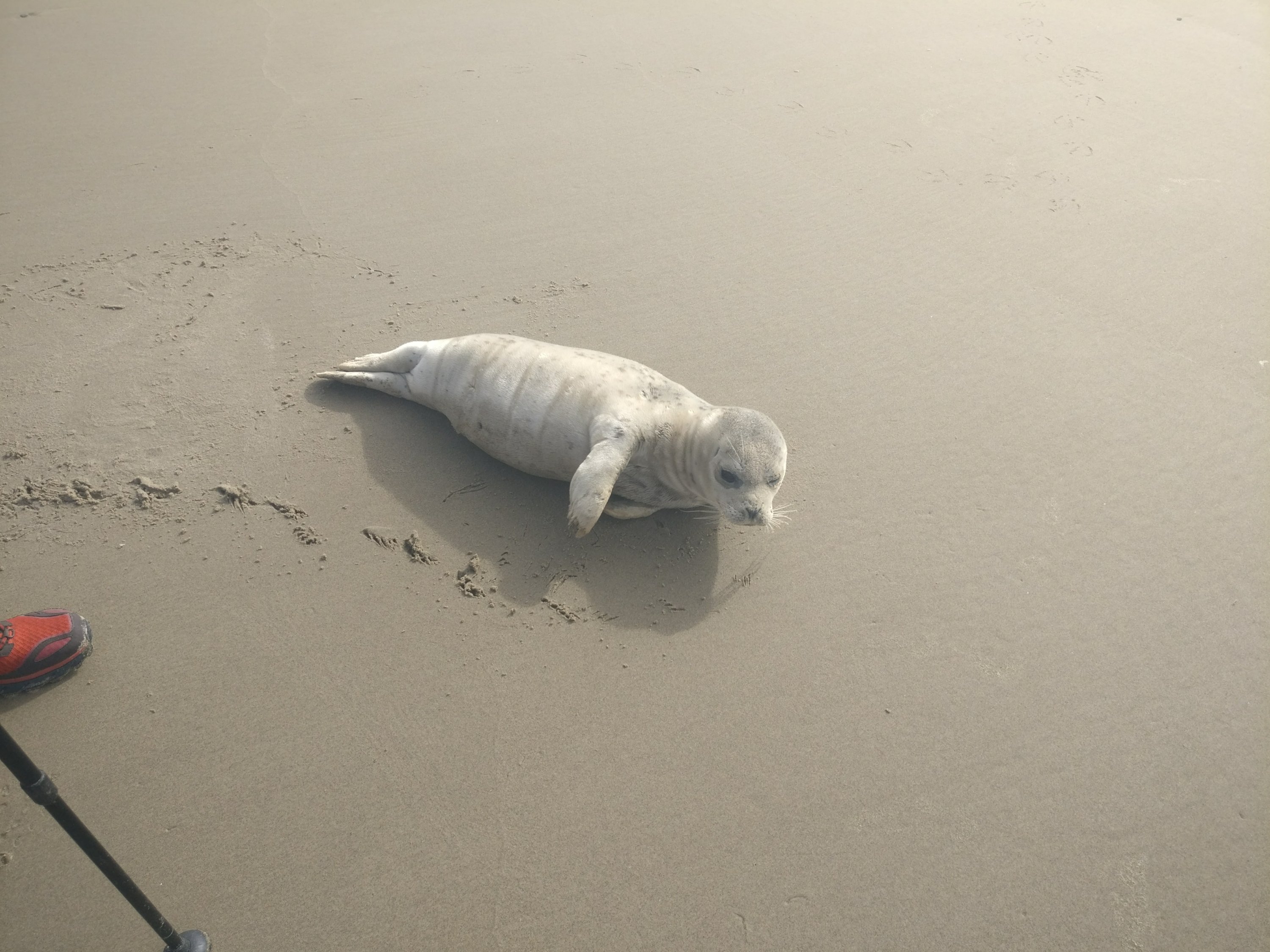 The remainder of the coast trail was long stretches of beach walking punctuated with trips back to hwy 101. We hiked about 10 to 15 miles per day usually about a mile or two was on the shoulder of the 101. Most of the time on the beach was extremely foggy and misty and there were very few other people around. At times it felt like being in some mad max post-apocalyptic waste land.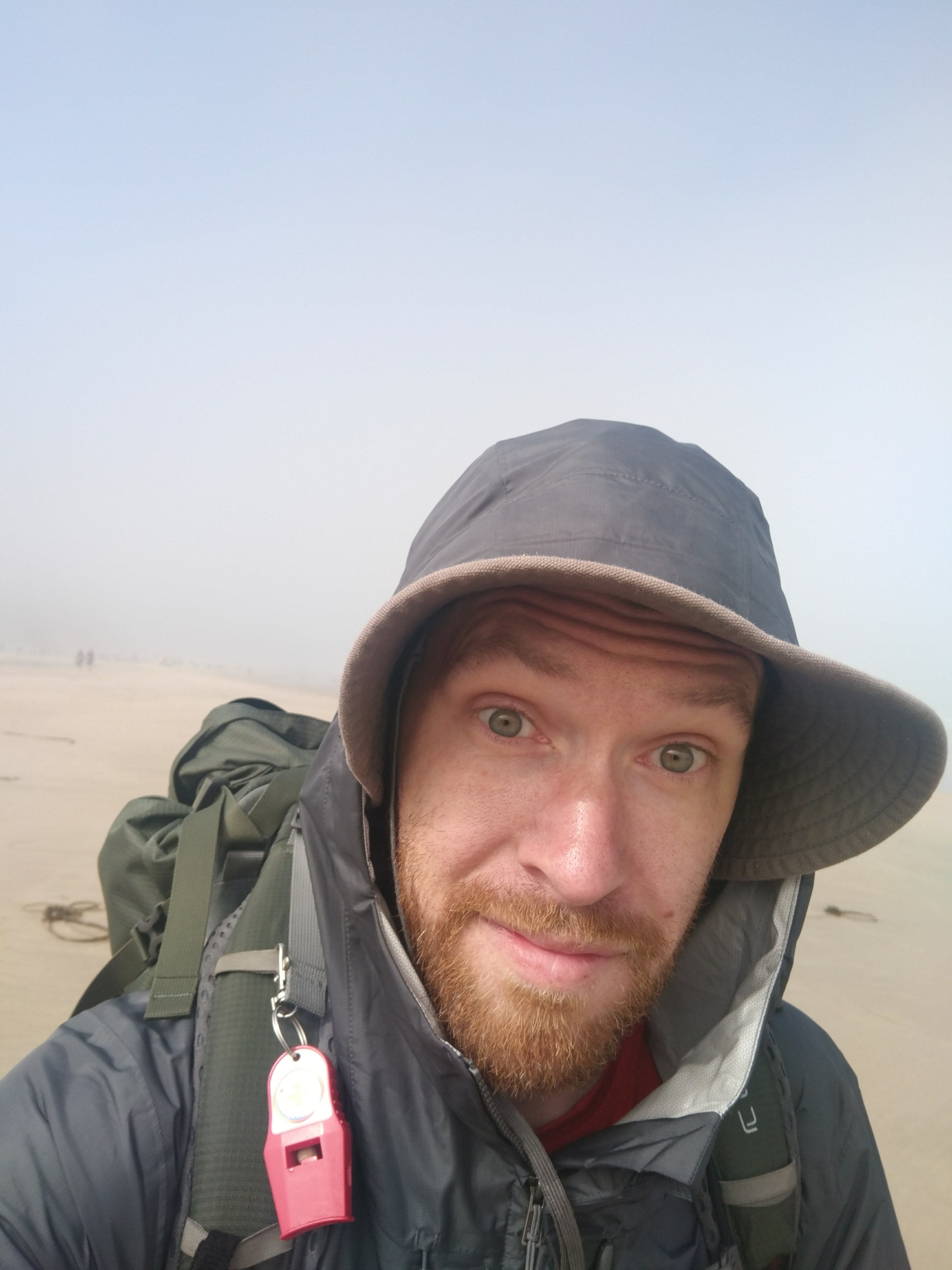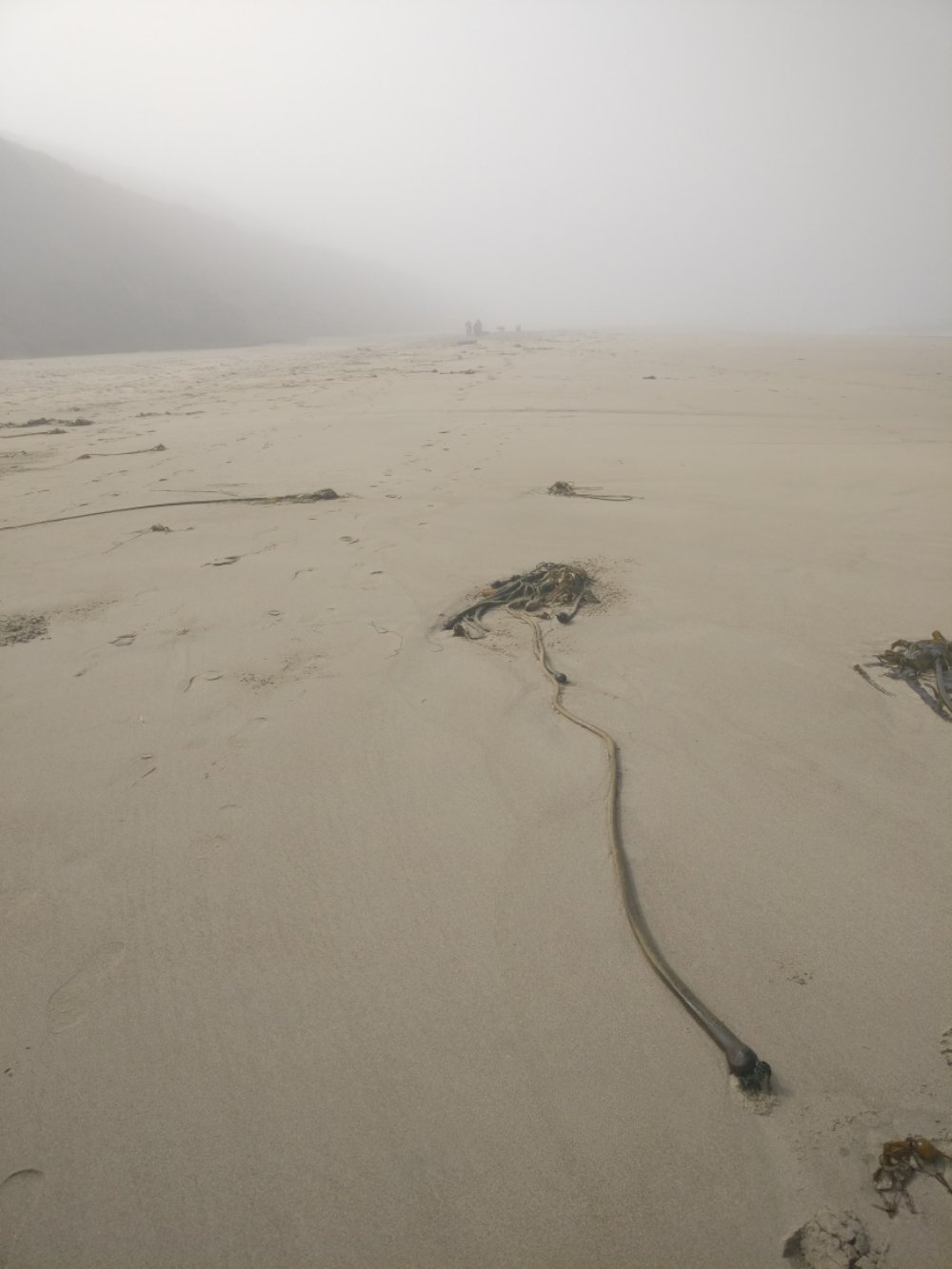 On our last day of hiking we finally hit some actual trail. We spent the day hiking through about 6 miles of beautifully maintained ocean side forest trail.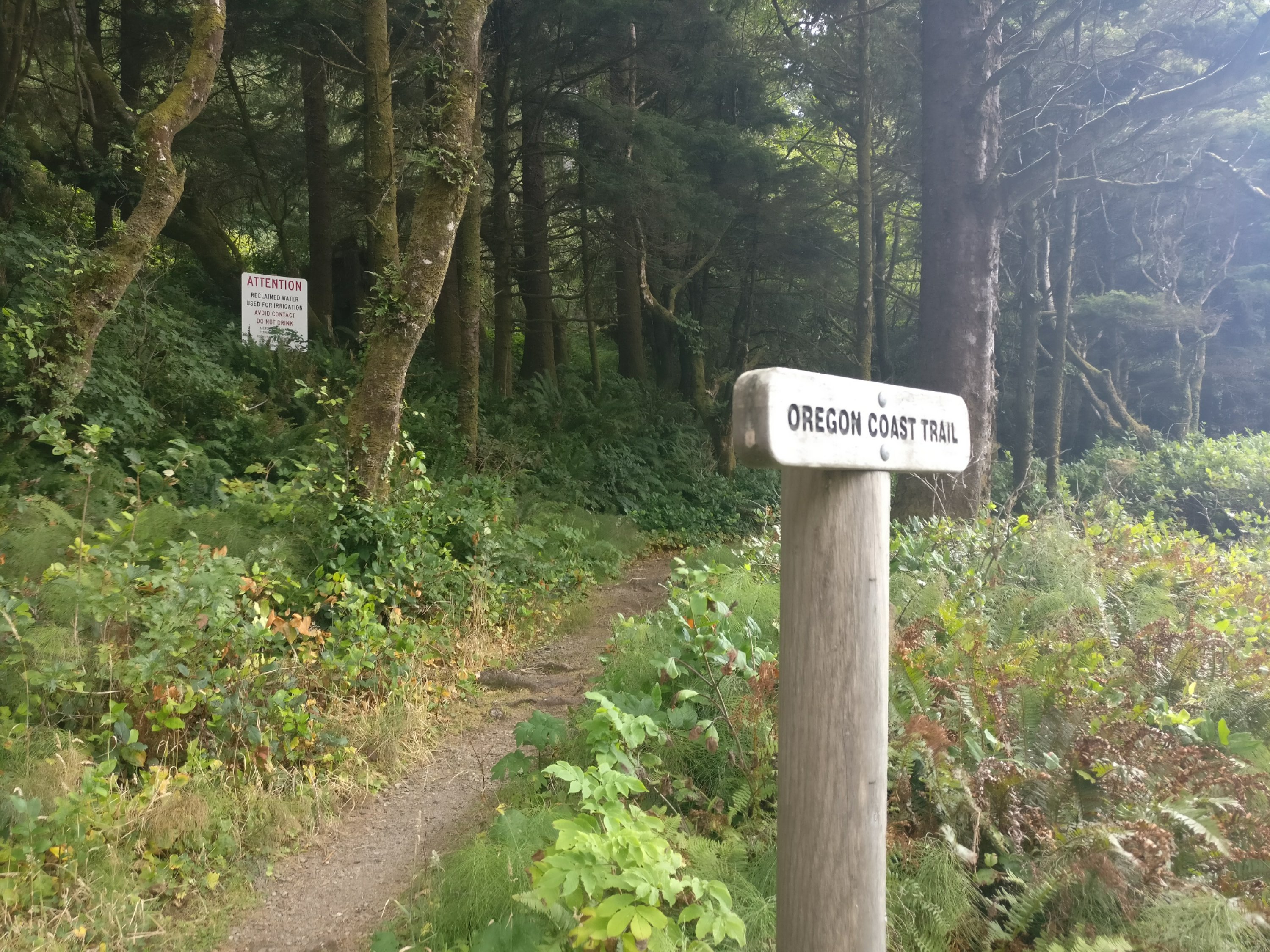 It was a well graded steady up hill climb ending and a gorgeous scenic overlook.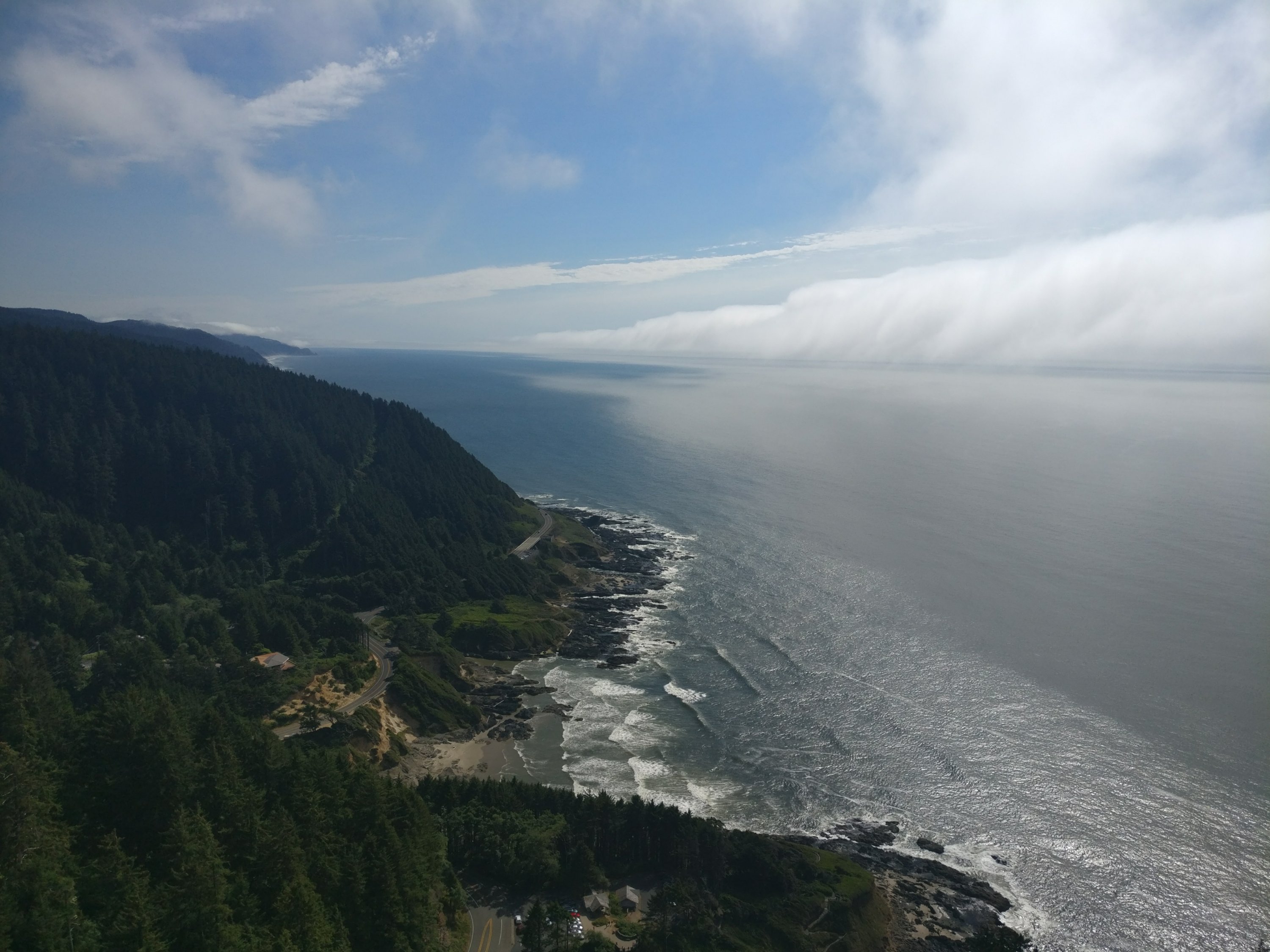 It was all down hill from there (har-har). When we got to the end of the trail it dumped us out right back on hwy 101. We walked the shoulder across a large bridge then went back down to the beach. When we got down there there were huge mounds of lava rock so we started climbing over them and heading south.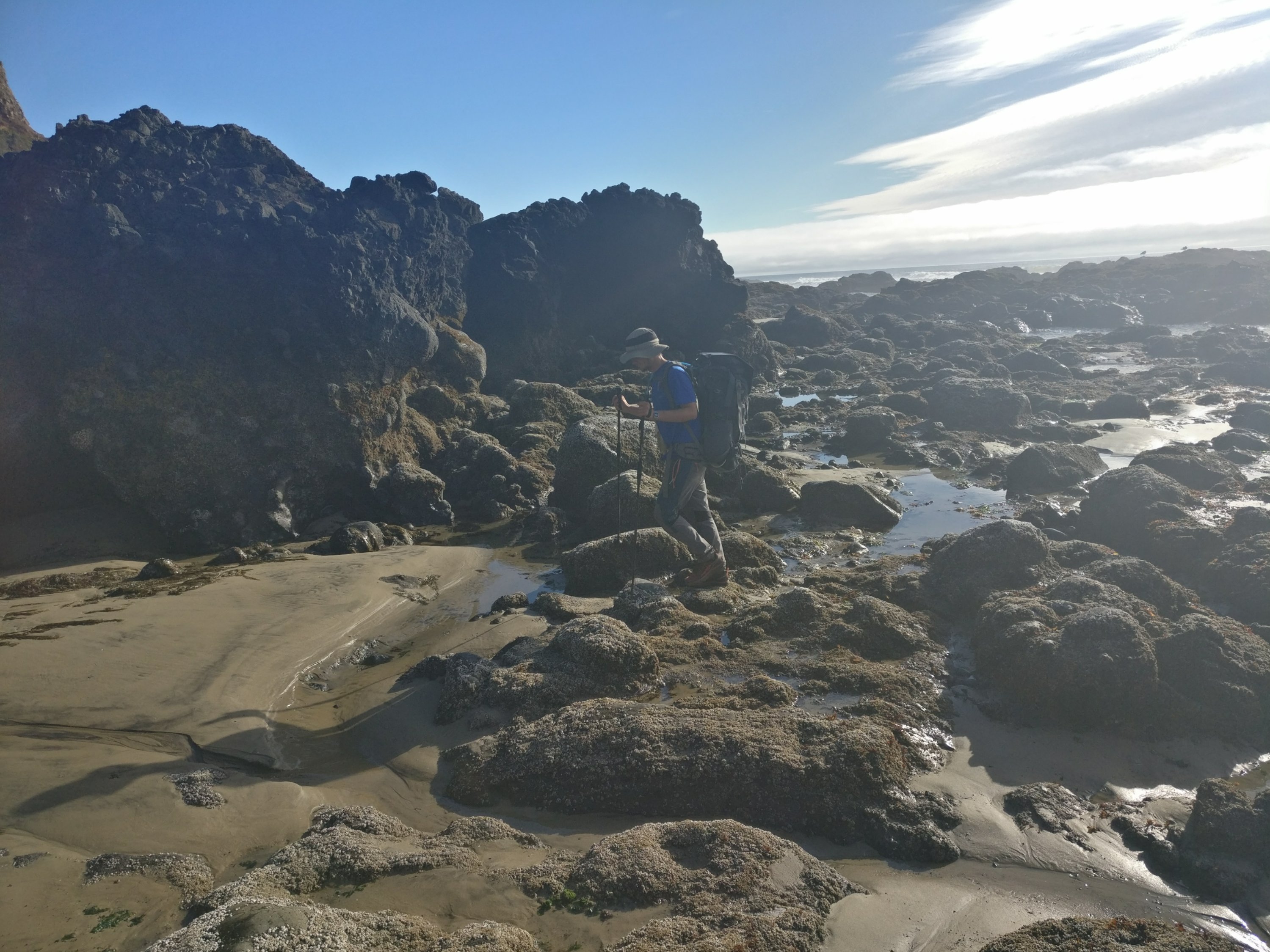 It was gorgeous, but grueling after climbing up and over about 3 of these mini-mountains I took off my pack and climbed as high as I could get. From there I could see that these rock formations continued for miles and it was extremely slow going and probably pretty dangerous. We decided this couldn't be right so we consulted the guide book. It said when we finished the forest trail we were supposed to hike the shoulder of the 101 for 5 miles. In this stretch of the 101 the shoulders were quite narrow and the speed limit was 55. It was terrifying so it seemed like it was time to hitch.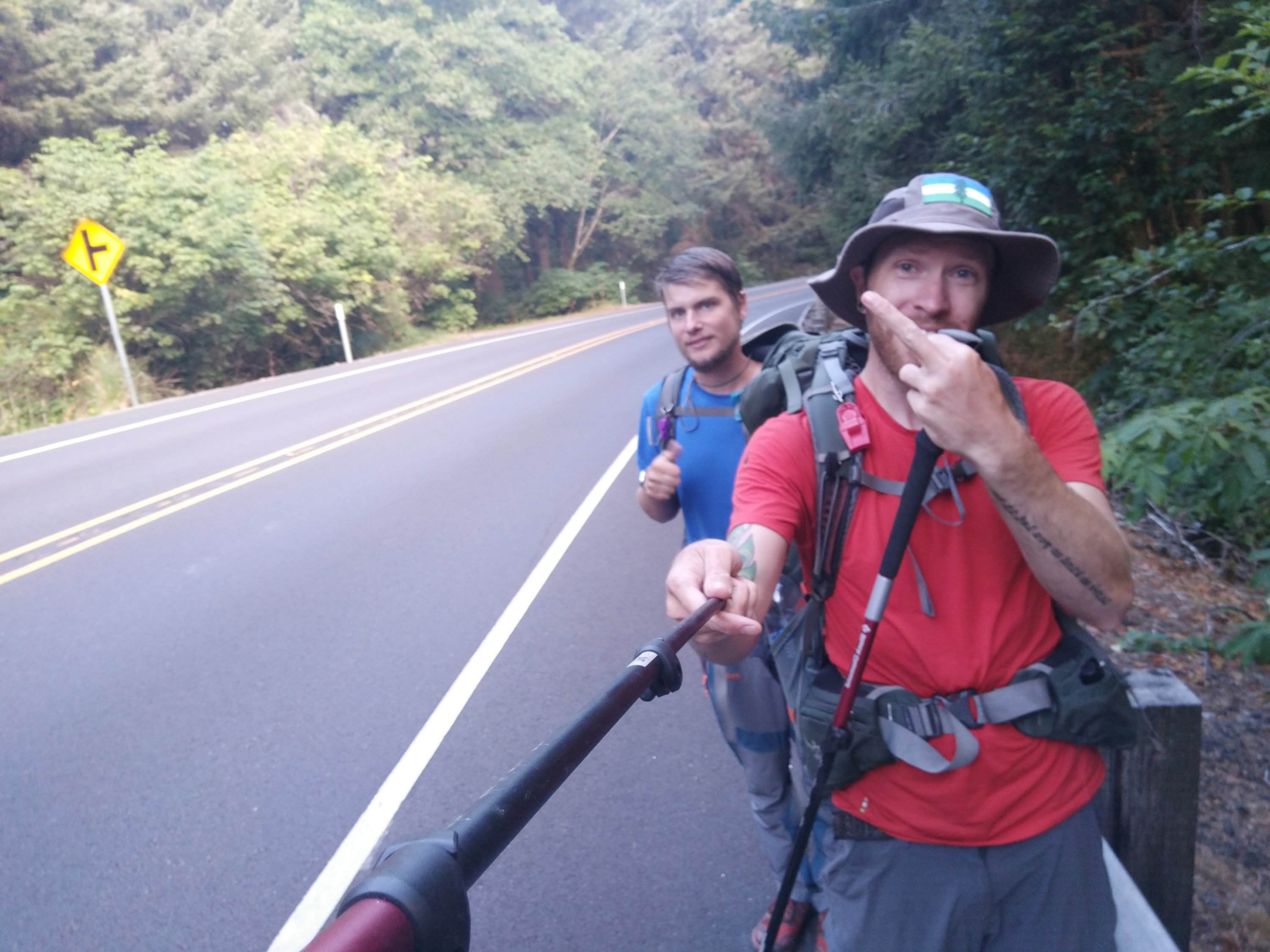 We stayed in one place trying to hitch for about half an hour, but the daylight was running out so we decided to start walking. After about a mile someone pulled over and tried to pick us up. Unfortunately, after about 10 minutes of arranging and rearranging they determined they couldn't make room for us and our packs. We walked another mile and just before dark a huge brand new lifted pick up truck went tearing up the road. Almost in unison we said, "well, that guys not gonna pick us up" just as he blew by. Seconds later he hit the brakes and pulled over. We hurried to get to his truck and he told us to hop in. He said he was going all the way to florence and could drop us anywhere in between. We were originally going to just go 5 miles to the next camp ground, but we figured we might as well ride this out. Brian's friend was picking us up and taking us to his place in Eugene the next day. There is a hwy that runs from Eugene to Florence so camping near town would make it easier to pick us up.
The Oregon coast was a great test run for my ankle which still wasn't at 100% when I left home. As I mentioned, the trail was fairly flat and we only walked about 60 miles, but everything felt fine throughout which is really promising.
From here the plan is to take a bus to Ashland, OR which is just north of the California border and start south on the PCT. However, when we got to Eugene the next day we found out that 2 days before. A new fire started north of Etna, CA and there was another one south of Etna. Everyone was bussing or hitching to bypass the closed section of Northern California. Guess it's time for plan E: bus to Weed, CA and then hitch to Castella.
We tried to catch a bus to Weed the next morning, but it was sold out so we wound up spending two nights in Eugene. This was actually pretty awesome because we got to spend some time exploring Eugene including an amazing tea house called J-Tea where the owner is about the most passionate person you could ever meet (About tea) and some incredible vegan food (not joking it was great).
After two days in Eugene we took a 6 hour bus ride to Weed which is a pretty tiny town without much traffic. There is a bus that runs from there to Dunsmuir, but it didn't run on weekends so we walked a mile to a truck stop and were able to grab a hitch from a guy in a landscaping truck after about 30 minutes. Again, it was someone I assumed wouldn't possibly pick us up because he was in a work vehicle.
He said he could take us as far as Mt Shasta, but no farther. However, after talking for a while he must've decided we were cool enough to go out of his way for or something because he offered to take us all the way to Castella if we didn't mind going with him back to his place to get his personal vehicle.
Once we got to Castella I picked up my resupply package and we headed to the camp ground which was about half a mile from the PCT. Tomorrow it's back to the PCT. Only 1487 miles to go.